We are a family business transport company, based in Thessaloniki, specializing in transportation and distribution of perishable food, fresh or frozen.
The course of our company in 20 years in national and international transport has given us the ability to work with larger food companies from Greece and abroad as well as with major multinational drug companies and forwarding companies.
We aim, all these years, to provide to our customers high quality transportation reliably, efficiently and direct. To achieve this goal, we rely on our modern fleet and on our highly trained and experienced staff.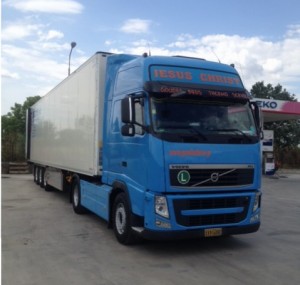 During the recent years we have received new refrigerated trucks VOLVO FH EURO 5-EEV and new isothermal reefer trailers SCHMITZ – LAMBERET with loading system of 66 pallets on two levels (Double deck) and separator systems, which carry high performance refrigerating machinery of CARRIER (VECTOR 1850mt) – Thermo KING (SLX SPECTRUM 50e), ecological and able to handle any refrigerated load, from maintenance conditions to hard freeze, also possible for two or three different temperatures within the chamber.
Our reliable and experienced staff can cope with any difficulty, thus providing our customers with solutions that transcend any problem which may arise.
So our fleet consists exclusively with trucks with Greek registrations and our staff, which consists of Greek drivers, have the necessary certificates for the carriage of perishable foodstuffs (ATP – FRC).
In continuous upgrading of our fleet added refrigerators with certification for the transport of pharmaceutical and medical supplies from the approved German certification body Pharmaserv.

All consignments are fully insured travel and transfer the amount of the insurance cover CMR reaches the 250.000€ per load.

In cooperation with ALFAKOM – POSITREX we installed saterllite managment systems to our fleet. Enabling us to remotely manage our fleet 24 hours a day 7 days a week. Providing high security to our staff and cargo.
We are available to any serious proposal for cooperation and will be delighted                            to contact us for any clarification or information.